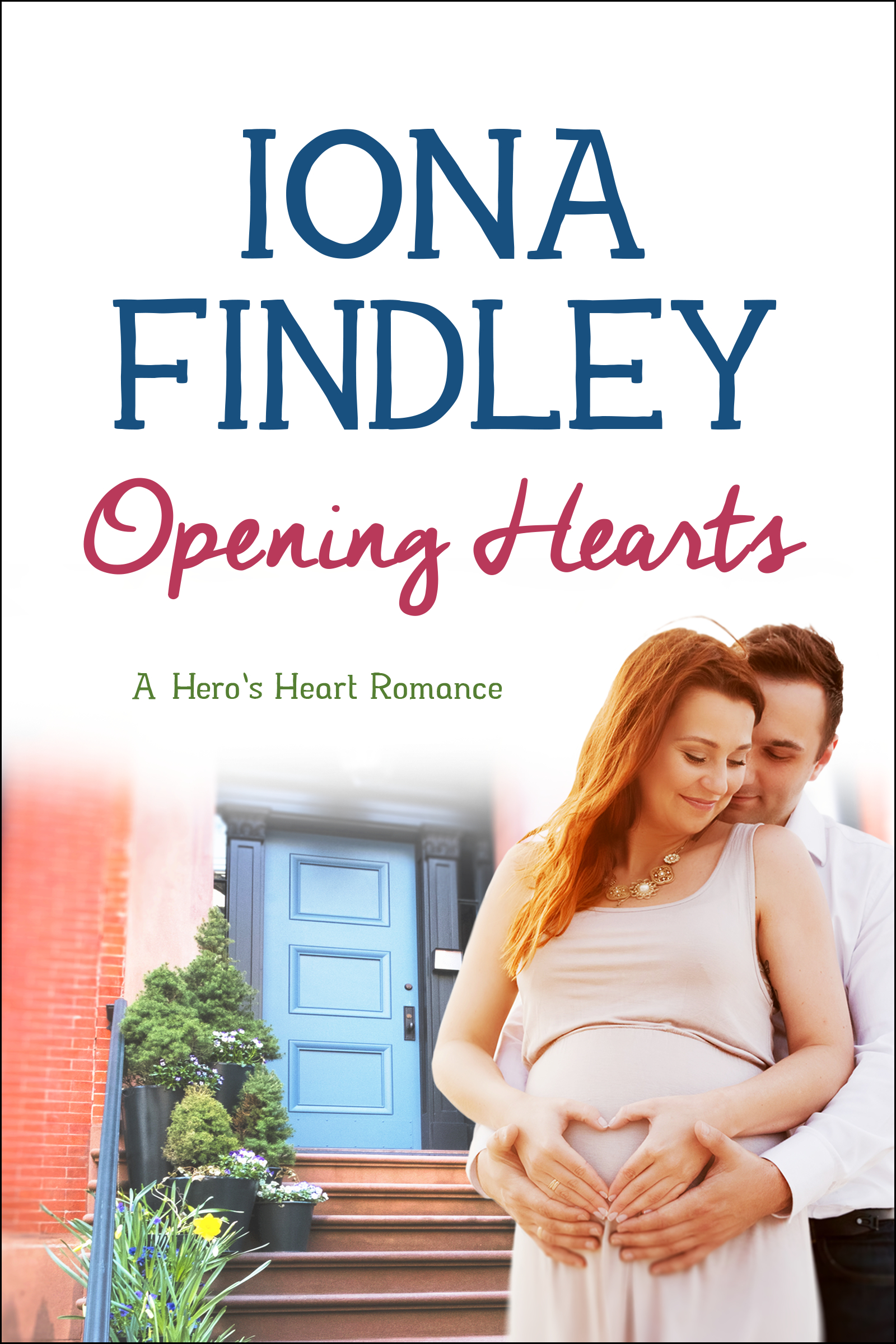 An absolutely delightful,quick read. The characters and fast paced action kept me involved and I finished the book in one sitting. A relaxing and enjoyable way to spend an afternoon. I appreciated the way the author embraced the sentiments that love and family are the two most important things in life.
J Thewes
The author will surprise you at times with turns that the story takes.  At times you will laugh and others you will cry. 
KVC
Fantastic Read.  Keeps you hooked from page one.  It had me laughing, crying and feeling really sentimental at times.  Definitely want to read the other books in this series.
gmarcus
OPENING HEARTS combines compelling characters, strong family relationships, and realistic conflicts to create a beautiful balance of heat, heartache, and happiness.
Pregnant and alone at 35!
Jessalyn O'Donnell returns from her best friend's wedding with a surprise of her own. She knows how it happened — three sex-filled nights with a smokin' hot guy, known only as Sam — but she has no way to get in touch with him.
When smokejumper Sam Ricci returns to his hometown after the annual firefighting season ends, he has no plans for fatherhood. His lifestyle is too risky, and he loves his job — almost as much as he loves women. Everything changes when he runs into Jessalyn again and discovers her plans for single parenthood.
Sam doesn't want to be tied down. Jessalyn would rather go it alone than deal with an absent husband. So why, when a twist of fate brings them together again, does it feel so right?
Do you like firefighters, secret babies and second chances? If so, this contemporary romance is for you.
Do you enjoy light, easy reads? OPENING HEARTS is perfect for a quick reading "getaway."
Opening Hearts can be enjoyed as a standalone story or as part of the Hero's Heart series
HERO'S HEART SERIES:
Opening Hearts (Book #1) Sam and Jessalyn
Risking Hearts (Book #2) Jake and Hope
Joining Hearts (Book #3) Zoe and Marcus
Evolving Hearts (Book #4) Andy and Amy
Finding Hearts (Book #5) Mikey and Julia
THE TOUSSAINTS:
Trust My Love (Book #1) Philippe and Claire
Unwind My Love (Book #2) Delphine and Geo
Reclaimed by Love (Book #3) Remy and Rachel
If you love heartwarming stories of uplifting characters in life-changing situations, download a sample or buy OPENING HEARTS now.

CHAPTER 1
Late, late, late.
Jessalyn O'Donnell hated being late, and today she'd been nothing but late. Five minutes late to her first client conference when her alarm didn't make a peep. Thirty seconds too late to catch the subway when the heel of one her favorite patent-leather pumps snapped five steps from the train's closing doors. One second too late to save her Pumpkin Spice Latte from crashing to the ground after her heel snapped.
When she stepped into the polished chrome elevator of the Brooklyn Medical Center building and punched the button for the fifth floor, her brain was boiling. The coffee splashed on her winter white trousers, the wobble in her gait from the broken shoe, and the leering auto salesman-looking creep who followed her into the elevator, were enough to set anyone's teeth on edge.
She was still fuming when she rushed into the doctor's office. Finding out the doctor was later than she was did nothing to improve her mood. Irritation oozed from Jessalyn as she looked at the six women waiting ahead of her for Dr. Fischer to return from an emergency C-section.
She considered rescheduling, but the receptionist told her the next available appointment was in January. More than two months? Better to suck it up and wait. Darn it! She'd miss dinner with her best friend, Sadie, too. Her fingers stabbed at her phone as she called to cancel.
"Hey, it's me."
"What's up, Jess? I can't wait for girl's night! Food, drinks, and my bestie. What could be better? Oh, and ogling. I forgot the ogling. Lots of guy ogling. I can't touch 'em, but I can still watch 'em."
Even irritated, Jessalyn had to laugh. Sadie ogled only one man; her newlywed husband, Mike. Her eyes never lingered on another man for a second.
"I hate to tell you this, but I have to cancel. I've got at least a two-hour wait at the gynecologist. Can we reschedule for later this week?" Frustration and irritation filled Jessalyn's voice.
"Sure, hon, but are you okay? You sound way too upset just because you're running a little late."
"A little late? No. It's been a late kind of day. I hate that. It's irritating."
"Jess, deep breaths," Sadie said.
Jessalyn sucked in a few huge gulps. Nope, not working.
"No, I said deep breaths. You sound like you're hyperventilating. Or practicing Lamaze. Just what do they have you doing while you're waiting for the doc? I mean, I know it's a gynecologist, but …"
Jessalyn laughed again. "Thanks, Sadie. I needed something to laugh about. No Lamaze for me. That's something good, I guess. At least I'm done for the day after this, so it's not like I can be late for anything else today."
Two hours later, when the nurse finally called her back, Jessalyn found out how wrong she was.
"When was your last period, dear?"
Such a simple question, so easy to answer in her structured, regulated life. Jessalyn should have been able to whip out her phone and tell her to the day, but she couldn't. When was her last period?
"Um, I might be a little late."
"Just how late, dear?"
Too late.
Her pulse throbbed at the base of her neck, there was a loud whooshing in her ears, and her stomach gurgled as if she'd just chugged a two liter bottle of soda. Pregnant. She was thirty-five years old and knocked-up.
Five years of celibacy. Hell, maybe longer. And one fling, just one in five years, and she was pregnant with no husband or boyfriend in sight.
Unbelievable.
Jessalyn normally considered herself lucky. How could this have happened? She walked out of the gynecologist's office in a daze. In her purse was a copy of the positive pregnancy test, a prescription for vitamins, and a list of prenatal counselors. I should have just canceled the appointment. But it wouldn't have changed this. Information is always power. It's good to have the facts. It's the facts that stink.
The cab ride to her Brooklyn Heights brownstone passed in a blur. Even the gorgeous view of the water, the Manhattan skyline, and the grand nineteenth century brownstone mansions lining the avenue could not hold her attention today.
Jessalyn's emotions cycled rapidly through panic, wonder, worry, and anger – first at the universe, and then at herself for getting into this position. What was the point of birth control if it didn't work when you needed it most? Oh God, she had taken it every day, hadn't she? Crap, maybe she hadn't. She pounded her head back against the headrest and earned a glare from the driver. Obviously there was no point if you forgot to take it.
Jessalyn didn't realize they had arrived until the cabby opened her car door with a sarcastic "You getting' out, or what?" She realized he must have been trying to get her attention for a while, and offered him an extra-large tip along with an embarrassed apology. His muttered, "Crazy lunatic," as he got back into the car did nothing to help her mood. She was a crazy lunatic at the moment – out of control and unable to think.
Overwhelmed and exhausted, she stood on the sidewalk staring up the short flight of stairs, which led to her beloved second floor, walk-through apartment. Her stomach growled, reminding her she'd missed lunch, but she wondered if she had enough energy to head to the deli on the corner for a takeout sandwich. Emotional stress always drained her.
A cab drove by and splashed her with muddy water. The cold jolt, along with the mild smell of rotting leaves, and God knew what else, woke her up. She looked down at the state of her pants, and let loose a manic little laugh. Okay, food is out; bed is in. She dragged up the steps to her apartment, feeling like the unluckiest woman in the world.
On Sadie's wedding cruise she hadn't felt like that. The western Caribbean had been perfect, and she'd felt great. On that cruise, lucky had had a whole different meaning for her…
Amazon eBook  Amazon Print  iBooks